Delivery
At N&C Tiles and Bathrooms, we endevour to get your goods to you in the best way possible. Please find below some important delivery information and answers to our most common queries.
Small Parcels / Tile Samples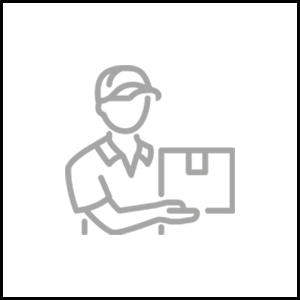 All wall and floor tile sample orders will be packaged as a parcel and delivered by specially selected parcel couriers for speed and convenience. Other smaller items that can be sent as a parcel will also be delivered by a parcel courier.
Please note, we do not send an order confirmation for sample tile orders and your samples may arrive in seperate consignments.
Kerbside Delivery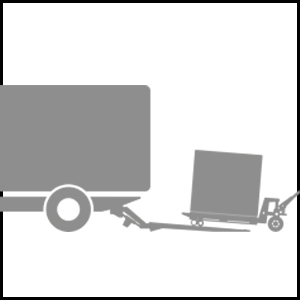 Larger orders will be delivered on a pallet for which N&C offer a 'kerbside delivery'. This means that the products will be delivered to the nearest, safest, level and accessible external point for unloading, normally on the path or road beside the kerb. This delivery point must have a hard surface (tarmac, paving or concrete) suitable for a pump truck - no grass or gravel.
In most instances the vehicle delivering will have a tail lift. Deliveries are not made using a crane lorry (Hi-ab). The operative will not be able to assist in unloading the pallet nor help carry goods to or inside a property for insurance purposes.
Please watch the video below before ordering to be fully aware of this process. Please click on the image to start the video.
Clear access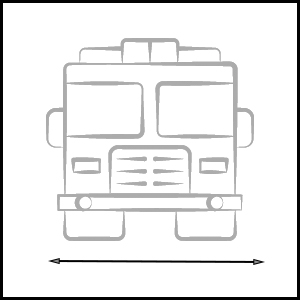 Deliveries are made on our own fleet of vehicles or, in some areas, via a third party carrier using an 18-tonne lorry (similar in size to a fire engine), therefore if your property has restricted access please let us know at the time of ordering, using the special instructions box. The access road must be suitable for HGVs (Tarmac, block paving or concrete). HGVs can not operate on rough, loose or soft ground.
When we process your order we will send you an Order Confirmation email. Please check this email to ensure the delivery address and telephone numbers are correct and contact us if there are any errors or access concerns. Please note we do not send confirmation emails for tile sample orders.
Delivery lead times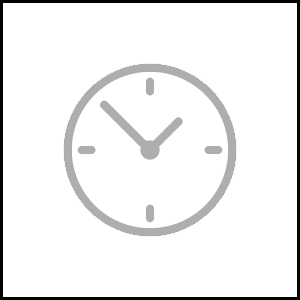 For all items in stock, the standard delivery time is 3-5 working days, but some areas have options for Next Working Day (Monday to Friday) and Saturday delivery (for orders received before 11am).* If we are not able to fulfil your order within the time requested we will contact you using the email address provided to us. Deliveries are usually made between 8am & 6pm. Next Working Day orders placed on a weekend are delivered on the following Tuesday (or Wednesday should there be a bank holiday Monday).
* Please note that some products require special packaging/ handling/ space or have an extended delivery time. Any additional charge will be included in your carriage payment during checkout. The delivery time will be confirmed in your despatch confirmation email once your order has been processed by our team.
Unfortunately, we are unable to cancel or amend any products on an order once the despatch confirmation email has been sent.
Late deliveries
Transporting goods is a fluid operation which can be disrupted by many factors outside of our control and the control of third party couriers. As such, whilst we make every effort to deliver goods in the given time frames, these are estimations and are not guaranteed. Therefore, we cannot be held responsible for any matters beyond our control that result in a late delivery and will not offer any compensation in relation to this.
We strongly advise that you do not book a tradesman or contractor until you have received all of your tiles and are happy that they meet with your approval, as we are not liable and will not compensate any claims for any situation beyond our control and contracts you have which are separate to your purchase with N&C. The sale of the goods is with the buyer only.
Delivery receipt
The delivery driver will always attempt to obtain a signature upon delivery, but this is not always possible. If you are not available to sign for your delivery the products will be left at the delivery address.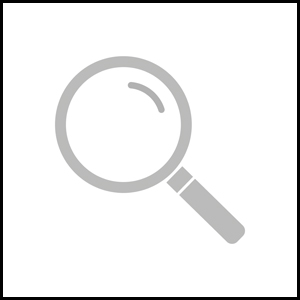 A quick visual inspection of the goods is recommended while the driver is present. Any obvious visible damage from the outside of the parcel or pallet should be noted on the delivery paperwork. The goods should then be fully inspected for damages, quantities, tile shade and sizing. In the unlikely event there any issues are found they must be reported to us within 72 hours of receipt. To open a claim for damages please follow the procedure on the breakages page.
Cost of delivery
The cost of delivery is calculated using the weight of the order and the location it is being delivered to. The delivery cost is shown during the checkout process once a delivery post code has been entered.*
Delivery is free of charge for tile samples. Please see details of the sample service here.
Delivery areas
Our web service includes parcel and pallet delivery options to mainland Great Britain as determined by the service offered by our delivery partners. Please contact us for a price for any postcodes excluded by our website.
The table below offers a guide to delivery costs. The actual cost of delivery is calculated once the delivery post code has been entered.*
Zone A
AL, B, BA, BB, BD, BH, BL, BN3, BN11-18, BN21-24, BN26-99, BR, BS, CB, CF, CH, CM, CO, CR0-3, CR5-6, CR8-90, CT, CV, CW, DA, DE, DH, DL, DN, DY, EN, GL, GU, HA, HD, HP, HR, HU, IG, IP, KT9, KT11, KT13-16, KT20, KT22-24, L, LE, LL11-14, LN, LS, M, ME, MK, NE, NG, NP, NR, OL, OX, PE, PO1-22, PR, RG, RH1-9, RH77, RM, S, SG, SK, SL, SM2, SM5-7, SN, SO, SP, ST, SY1-9, SY12-15, TA1-3, TA6-20, TF, TN1-7, TN9-12, TN17-40, TS, TW, UB, W3-5, W7, W12-13, WA, WD, WF, WN, WR, WS, WV, YO
| | | | |
| --- | --- | --- | --- |
| Consignment type | Standard | Next Working Day | Saturday |
| Per parcel < 15kg | £12 | £14 | £22 |
| Per parcels < 30kg | £24 | £28 | £44 |
| Per pallet < 100kg | £35 | £45 | £83 |
| Per pallet < 1000kg | £30 | £40 | £78 |
Zone B
BN1-2, BN5-10, BN20, BN25, CA, BR4, CR4, CR7, DG, DT, E, EC, EH, EX, FK1-7, FK10, FY, G, KA1-26, KA29-30, KT1-8, KT10, KT12, KT17-19, KT21, KY2-5, LD, LL15-78, ML, N, NW, PA1-19, PL, RH10-11, RH12-20, SA, SE, SM1, SM3-4, SW1-99, SY10-11, SY16-25, TA4-5, TA21-24, TD1-4, TD6-7, TD9-10, TN8, TN13-16, TQ, W1-2, W6, W8-11, W14, WC
| | | | |
| --- | --- | --- | --- |
| Consignment type | Standard | Next Working Day | Saturday |
| Per parcel < 15kg | £12 | £14 | £22 |
| Per parcels < 30kg | £24 | £28 | £44 |
| Per pallet < 100kg | £37 | £47 | £85 |
| Per pallet < 1000kg | £35 | £45 | £83 |
Zone C
DD, FK8-9, FK11-21, KY1, KY6-16, KY99, PH1-7, PH11-14, TD5, TD8, TD11-15, TR1-18
| | | | |
| --- | --- | --- | --- |
| Consignment type | Standard | Next Working Day | Saturday |
| Per parcel < 15kg | £13 | £15 | £23 |
| Per parcels < 30kg | £26 | £30 | £46 |
| Per pallet < 100kg | £50 | £60 | £98 |
| Per pallet < 1000kg | £45 | £55 | £93 |
Zone D
AB, IV1-36, IV55-56, IV63, IV99, KW1-14, PA21-38, PA80, PH8-10, PH15-41, PH49-50, TR19-27
| | | | |
| --- | --- | --- | --- |
| Consignment type | Standard | Next Working Day | Saturday |
| Per parcel < 15kg | £18 | Not available | Not available |
| Per parcels < 30kg | £36 | Not available | Not available |
| Per pallet < 100kg | £75 | Not available | Not available |
| Per pallet < 1000kg | £70 | Not available | Not available |
Excluded from web delivery
BF, BT, GY, HS, IM, IV40-49, IV51-54, JE, KA27-28, KW15-17, PA20, PA41-49, PA60-78, PH42-43, PO30-41, ZE
Consignment type
Standard
Next Working Day
Saturday
Per parcel < 15kg
Please Contact us for price
Per parcels < 30kg
Please Contact us for price
Per pallet < 1000kg

Please Contact us for price
All other delivery information
We hope you love your products as much as we do! We are happy to help you with your purchase, so if you have questions or concerns regarding the delivery service offered please contact us before placing your order.
Please read our full terms and conditions.